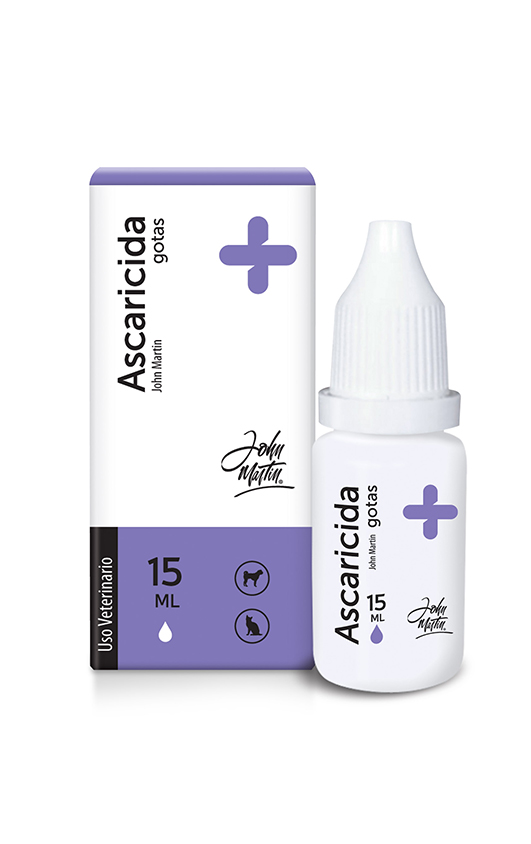 Presentación:

Especies:



Composition
Piperazine dihydrochloride (53% of piperazine base) 20.0 g
Homatropine methylbromide 0.1 g
Excipients q.s. 100 mL

THERAPEUTIC ACTION
INDICATIONS FOR USE
In short-term treatments, ASCARICIDA JOHN MARTIN removes Ascaris in dogs and cats (Toxocara canis, Toxocara cati and Toxascaris leonina).

ROUTE OF ADMINISTRATION
DOSAGE AND INSTRUCTIONS FOR USE

Dogs y Cats: 10 drops/ kg live weight or 0.5 ml/ kg live weight, administer orally.
Administer the drops diluted in a sugary solution by using a spoon that is not completely full or, alternatively, administer by soaking a piece of bread or another piece of food in the liquid. The dose should be repeated after 48 hours and, then, after 15 days. It is not necessary to fast before or after administration.
Dosage guidelines: 20 drops of Ascaricida equal to 1 ml and contain 200 mg of piperazine dihydrochloride (53% of piperazine base).

CONTRAINDICATIONS / WARNINGS / PRECAUTIONS

Do not use in case of hypersensitivity to any components in the formulation.

AVAILABLE