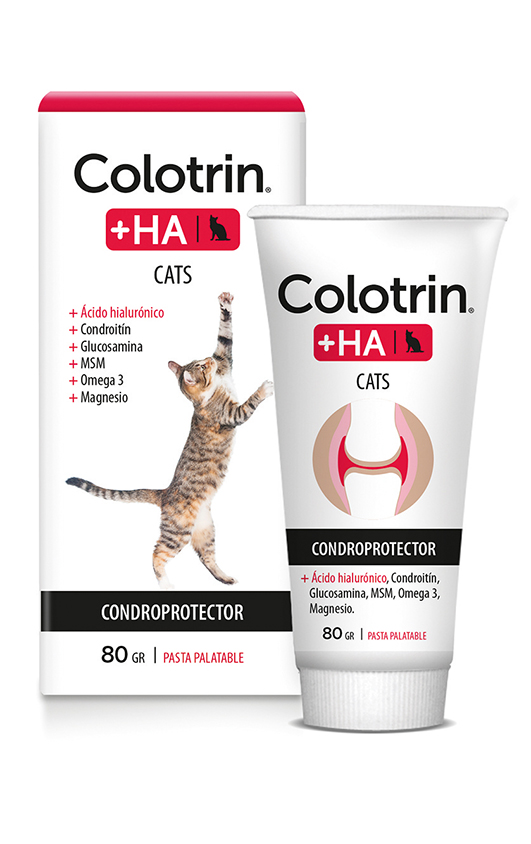 Presentation:
Species:


Composition
Chondroitin sodium sulfate 2.00 g, Glucosamine hydrochloride 3.00 g, Methylsulfonylmethane 5.00 g, Hyaluronic Acid sodium salt 0.15 g, Magnesium chloride hexahydrate (equivalent to 35 mg of Mg) 0.30 g, Zinc sulfate heptahydrate (equivalent to 159 mg of Zn) 0.7 g, Cod liver oil 3.00 g, Excipients q.s. 100 g.

Therapeutic Action
Indications for Use
To maintain anatomical and functional integrity of cartilage. To prevent and delay signs of joint degeneration in animals suffering from inflammatory arthritis of any origin and in cats of an advanced age. Hyaluronic acid contributes to keeping the synovial fluid necessary to improve joint mobility. Magnesium and Zinc contribute to the strengthening of joints.
The chondroprotective effect is carried out in different ways:
1. By stimulating physiological mechanisms of cartilage reparation.
2. By aiding in the normalization of synovial fluid.
3. By restoring proteoglycans in cartilage.
4. By down-regulating cartilage degrading enzymes.

Route of Administration
Dosage and Instructions for Use

Cats of all ages:
2.0 g per animal.
Administer once daily. Duration of treatment will be determined by the prescribing veterinarian.

Contraindications / Warnings / Precautions

Not applicable. The product has a wide margin of safety because it presents a low amount of toxicity. It can be administered for long periods of time.

Available

- Argentina
- Uruguay
- Perú
- Paraguay
- Chile
- Ecuador