Dexa 4 solution for injection
Dexa 4 solution for injection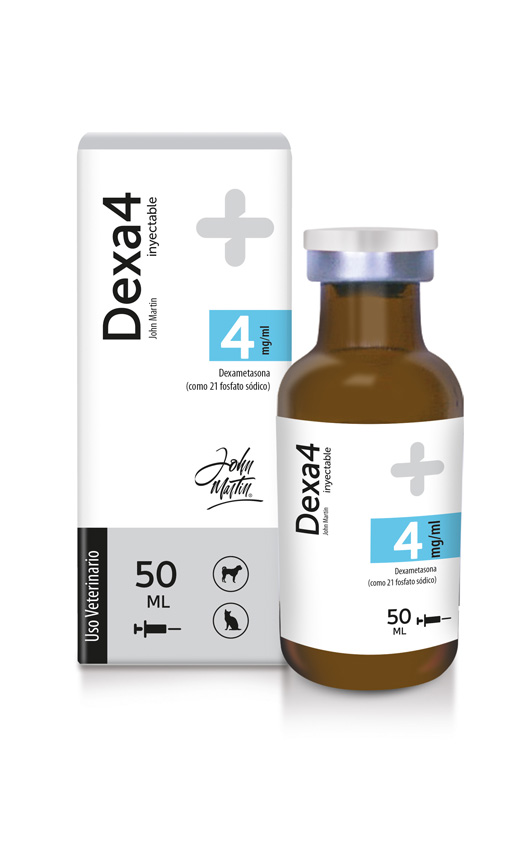 Presentation:

Species:



Composition
Dexamethasone (as 21 sodium phosphate) 400 mg
Excipients q.s. 100 mL

Therapeutic Action
Steroidal anti-inflammatory drug.

Indications for Use
Atopic dermatitis, arthritis, bursitis, synovitis, spondylitis, allergic conjunctivitis, congenital adrenal hyperplasia, cerebral edema, systemic lupus erythematosus, hypersensitivity to drugs, shock therapy, rheumatic diseases, non-suppurative thyroiditis, autoimmune hemolytic anemia and the general indications for the use of corticosteroidal anti-inflammatory drugs.

Route of Administration
For subcutaneous, deep intramuscular, intravenous or intra-articular administration.

Dosage and Instructions for Use

The dose may vary at the discretion of the prescribing veterinarian depending on the type of condition and on the severity of the clinical signs.
Dogs and Cats:
-Atopic dermatitis, allergic conjunctivitis and allergies in general:
0.25 - 1 mg/kg live weight. Loading dose. Later dose reduction shall be determined by prescribing veterinarian.
-Congenital adrenal hyperplasia, non-suppurative thyroiditis, systemic lupus erythematosus, autoimmune hemolytic anemia:
0.5 - 1 mg/kg peso vivo. Variable dose in case of prolonged treatment, the dose may be reduced below 0.5 mg/kg body weight.

Contraindications / Warnings / Precautions

Tuberculosis. Peptic Ulcer. Diabetes mellitus. Blood Dyscrasia. Pregnant animals. Animals during their first weeks of life.

Available