Enrofloxacina 5% solution for injection
Enrofloxacina 5% solution for injection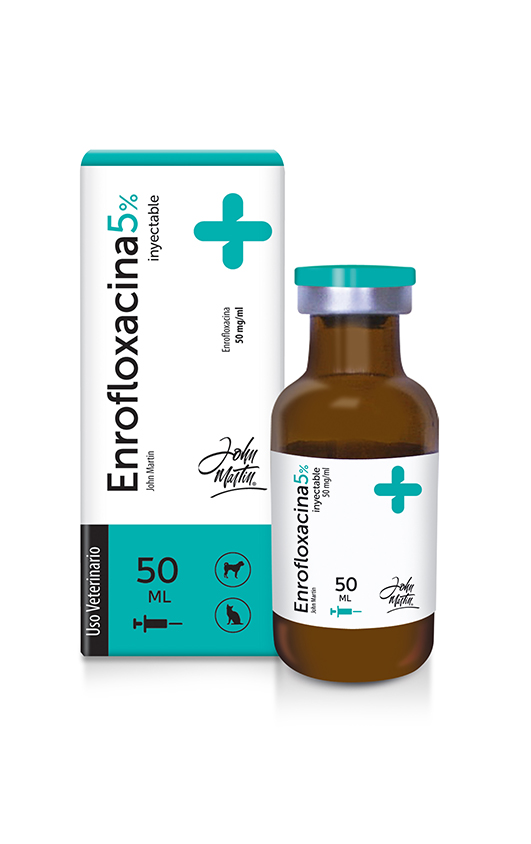 Presentation:

Species:



Composition
Enrofloxacin 50 mg
Excipients q.s. 1 mL

Therapeutic Action
Broad-spectrum antibiotic (Fluoroquinolone)

Indications for Use
It is indicated for the treatment of bacterial infections of the respiratory, alimentary, genital and urinary tracts, the skin, the auditory canal and wound infections. Enrofloxacin is effective against microorganisms of the following genus and/or species: Escherichia coli, Salmonella spp., Pasteurella multocida, Pseudomonas aeruginosa, Brucella canis, Bordetella bronchiseptica, Campylobacter spp., and Clostridium perfringens.

Route of Administration
Dosage and Instructions for Use

Dogs y Cats: 2.5 mg/kg live weight every 12 hours. Said dose is equivalent to 1 ml/20 kg body weight every 12 hours. A dose of 5 mg/kg live weight can be administered every 24 hours. A 5-day treatment is recommended.
Dosage shall be determined by the prescribing Veterinary Surgeon.

Contraindications / Warnings / Precautions

Enrofloxacin may cause hypersensitivity phenomena.
Such as all antibiotics and chemotherapeutic drugs, it can produce resistance in pathogenic agents.

Available

- Argentina
- Hong Kong
- Singapur