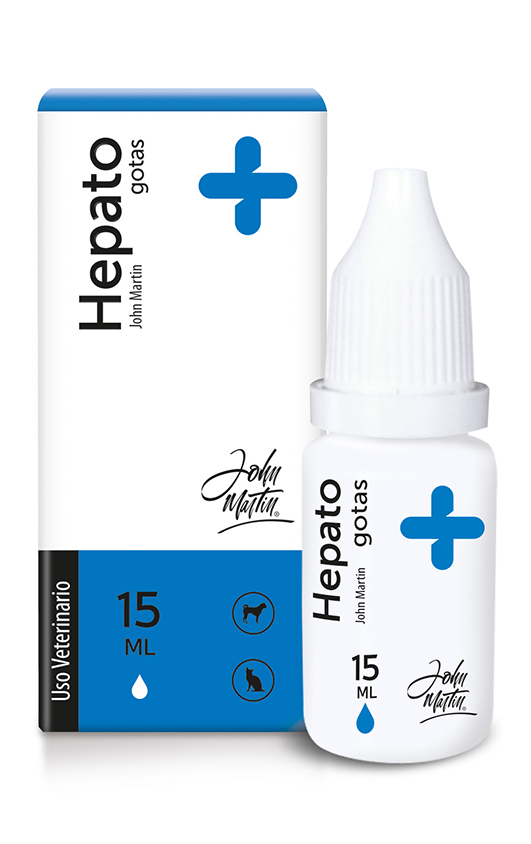 Presentation:

Dropping bottle containing 15 mL.

Species:



Composition
Choline bitrate 1 g
DL-Methionine 3 g
Peumus Boldus extract 3 g
Cynara Scolymus extract 5 g
Rhamnus Prushiana extract 2.5 g
Homatropine methylbromide 0.1 g
Excipients q.s. 100 mL

Therapeutic Action
Liver protector, cholagogue and choleretic drug.

Indications for Use
Dogs and Cats: To treat different liver diseases such as: hepatitis, cirrhosis, toxic lesions, liver failure (toxemia and low-protein diet), jaundice, spasms and cholestasis, with intestinal constipation and tympanites.

Route of Administration
Dosage and Instructions for Use

Dogs and Cats: 3 drops / kg live weight. Maximum Dose: 30 drops total. For animals weighing more than 10 kg, always use the maximum dose.
Recommended dose can be increased at the discretion of prescribing veterinarian, in severe cases.
Administer twice daily, every 12 hour approximately.
Administer the drops directly into the mouth or diluted in water or in a sugary solution. In this case, use a spoon that is not completely full.
Dosage guidance: 20 drops of HEPATO JOHN MARTIN equal to 1 mL.

Contraindications / Warnings / Precautions

Do not use in animals which have a presumptive or a confirmed diagnosis of hepatic encephalopathy.
Because of its choleretic effect, do not use in case of bile duct obstruction due to stones.
Do not use in case of known hypersensitivity to any components in the formulation.
Do not administer to animals suffering from diarrhea, colonic hypersensitivity or ulcers in the digestive tract.
Do not use in pregnant or lactating animals.

Available

- Argentina
- Paraguay
- Panamá
- Guatemala
- Emiratos Árabes Unidos