Meloxivet oral suspension
Meloxivet oral suspension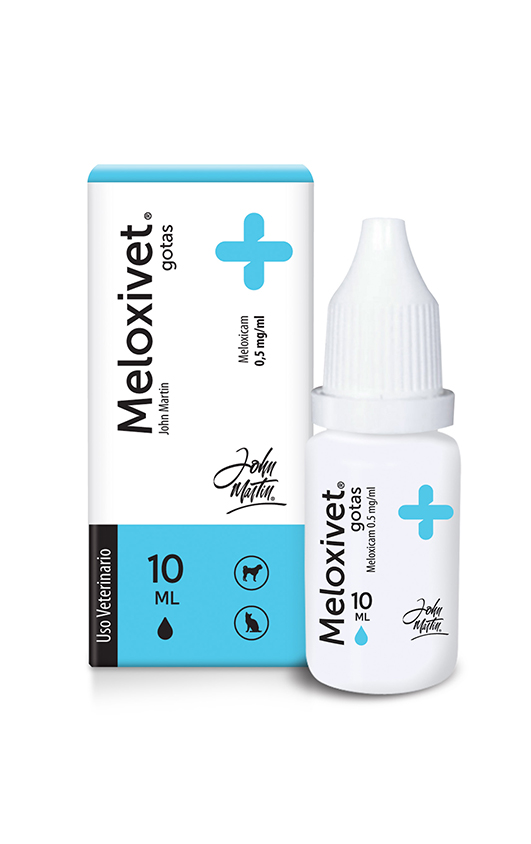 Presentation:

Dropping bottle containing 10 mL.

Species:



Composition
Meloxicam 0.5 mg
Excipients q.s. 1 mL

Therapeutic Action
Non-steroidal Anti-inflammatory/ analgesic drug.

Indications for Use
For the alleviation of pain and inflammation associated with osteoarthritis, myositis, tenosynovitis, musculotendinous and ligament disorders, and panosteitis and for the alleviation of muscle pain.
Recommended for the reduction of post-operative pain and inflammation following orthopedic and soft tissue surgery.
Where bleeding is of concern, Meloxicam may have minimal to no effect due to lack of anti-thromboxane activity.

Route of Administration
Dosage and Instructions for Use

Dogs: Loading dose: 0.2 mg/kg body weight on the first day. Then administer a maintenance dose of 0.1 mg/kg body weight once daily.
Cats: Dose: 0.1 mg/kg body weight every 24 hours for 3 to 5 days and then 0.1 mg total every 24-72 hours.
SHAKE WELL BEFORE USE.
25 drops = 1 mL.

Contraindications / Warnings / Precautions

Do not use the product in animals suffering from impaired hepatic and/or renal function, coagulation disorders or cardiovascular diseases. Do not use in dehydrated, hypovolemic or hypotensive animals, or where there is ulceration or gastrointestinal bleeding. Do not use in animals with known hypersensitivity to Meloxicam, Piroxicam, aspirin or other NSAIDs, or to any of the excipients.
Do not use in pregnant or lactating animals.
Do not use in animals less than 8 weeks of age.
In case of overdose symptomatic treatment should be initiated and it should be accompanied by rehydration therapy.
If accidental ingestion occurs, seek medical advice immediately.
No specific antidote is known.

Adverse reactions:
Most common adverse reactions include: vomiting, diarrhea, loss of appetite, melena, hematemesis and gastrointestinal ulceration. Less common adverse reactions include: ataxia, personality changes, seizures, hyperactivity, somnolence, depression and lethargy in young animals, itching, eczema, focal alopecia, hot spot (acute moist dermatitis), pyoderma and allergic dermatitis.
Meloxicam must not be administered concurrently with anticoagulants, other NSAIDs, steroidal anti-inflammatory drugs, diuretics or nephrotoxic drugs. Substances with high protein binding may compete for binding and thus lead to toxic effects.

Available

- Argentina
- Paraguay
- Uruguay
- Panamá
- Perú
- Emiratos Árabes Unidos
- Ecuador
- República Dominicana