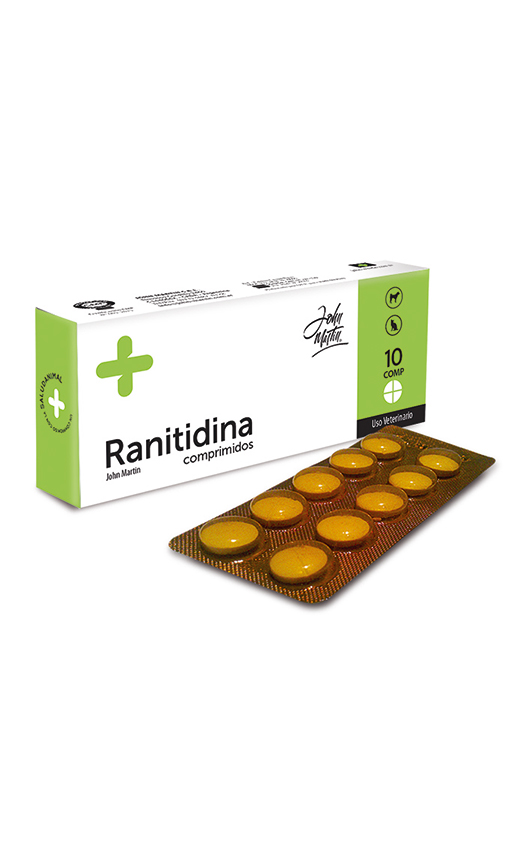 Presentation:

Box containing 10 tablets
Hospital unit dose containing 100 tablets.

Species:



Composition
Ranitidine hydrochloride 50 mg.
Excipients q.s. 300 mg

Therapeutic Action
Antacid, H2-receptor antagonist.

Indications for Use
Indicated for the treatment of gastritis and gastric or duodenal ulcers. Since it inhibits stomach acid secretion, it is indicated for all cases in which heartburn needs to be reduced.

Route of Administration
Dosage and Instructions for Use

Administer orally. Tablets can be given either directly into the mouth or with food.
Dogs: Administer 2 mg/ kg live weight every 12 hours, i.e.: 1 tablet every 25 kg body weight every 12 hours.
Cats: Administer 3.5 mg/ kg live weight every 12 hours, i.e.: ¼ tablet every 3 kg body weight every 12 hours.
Duration of treatment will depend on the severity of the symptoms. Treatment can begin with parenteral administration of the product followed by oral administration. Dose and treatment shall be determined by the prescribing Veterinary Surgeon.

Contraindications / Warnings / Precautions

Even though several side effects have been reported in human beings, such effects have not been verified in animals. Rebound hypersecretion of gastric acid may be observed in some animals after withdrawal of the drug, especially in cases of ulcer. Gastric acid suppression caused by H2-receptors antagonists results in an increase in the plasma concentration of gastrin, 3 hours after administering a dose. The subsequent stimulation of gastric mucosal G cells produces hypersecretion of gastric acid, which becomes evident when the drug is withdrawn. The probability of hypersecretion is conditioned to an increase in the sensibility of parietal cell receptors that, apparently, characterizes patients suffering from ulcers.

Available
- Argentina
- Perú
-Paraguay
- Panamá
- Uruguay
- Singapur
- Emiratos Árabes Unidos