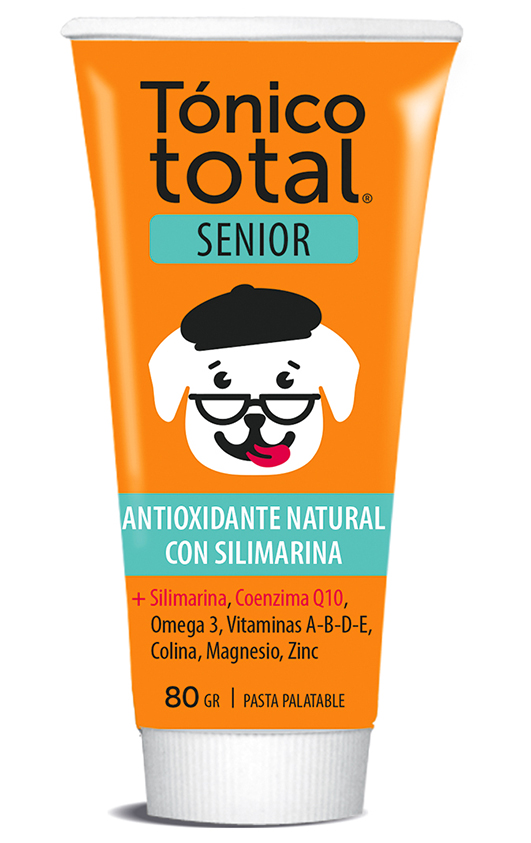 Presentation:

Tube containing 40 or 80 g.

Species:


Composition
Vitamin A, palmitate 20000 International Unit; Vitamin D3 5000 International Unit; Vitamin B1, hydrochloride 50 mg; Vitamin B12 6 mg; Vitamin E, acetate 250 mg; Coenzyme Q10 300 mg; Silimarin 6000 mg; Choline, bitrate 50 mg; Fish Oil 3000 mg; Magnesium chloride, hexahydrate 300 mg; Zinc sulfate, heptahydrate 700 mg; Excipients q.s. 100 g

Therapeutic Action
Natural antioxidant with Silimarin, Coenzyme Q10 and Vitamin E.

Indications for Use
Vitamin mineral dietary supplement for senior dogs. Its formula includes Omega 3 Fatty acids. It boosts vitality and aids metabolic processes in senior animals. It acts as a natural antioxidant in degenerative processes. It aids in skin and coat conditions, diarrhea and poisoning. It can be used as an adjuvant in treatments with antibiotics and chemotherapeutic drugs and in the convalescence of infectious diseases.

Route of Administration
Dosage and Instructions for Use

Dogs up to 10 kg live weight: 5 g; dogs weighing between 11 and 25 kg live weight: 10 g; dogs weighing over 25 kg live weight: 15 g.
2.5 g of the product equal to 1 coffee spoon.
Administer once daily. Duration of treatment will be determined by the prescribing veterinarian.

Contraindications / Warnings / Precautions

Available