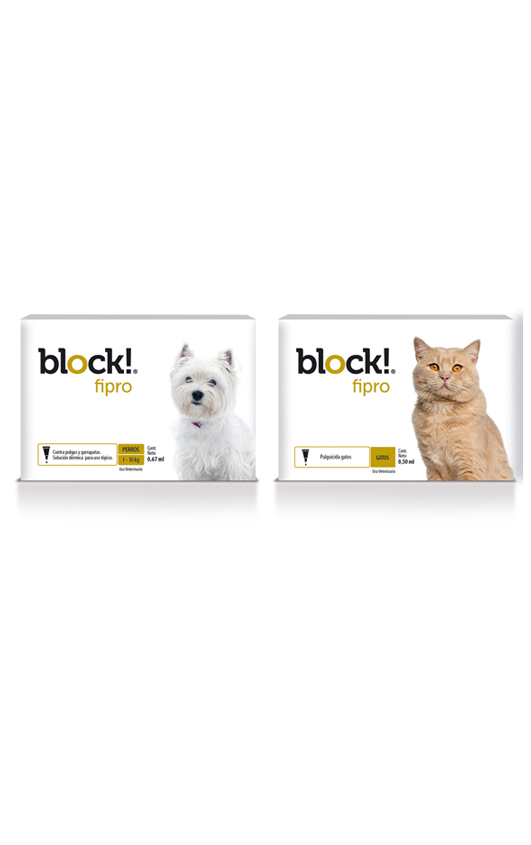 Presentation:
Spot on solution size S from 1 to 10 kg body weight, 0.67 mL.
Spot on solution size M from 11 to 20 kg body weight, 1.34 mL.
Spot on solution size L from 21 to 40 kg body weight, 2.68 mL.
Spot on solution size XL from 40 to 60 kg body weight, 4.02 mL.

Species:



Composition
Every 100 ml contains:
Fipronil: 10.00 g
Excipients q.s. 100.00 ml

Therapeutic Action
Indications for Use
Indicated for the treatment, control and prevention of ectoparasitic infestations in dogs, caused by fleas (Ctenocephalides felis felis y Ctenocephalides canis) and ticks (Rhipicephalus sanguineus).

Apart from exerting a quick lethal effect on the adult forms of said ectoparasites, it has a prolonged residual effect, which keeps dogs free from fleas for up to 2 months and from ticks for up to 27 days.

It aids in the control of infestations by cestodes (Dipylidium caninum) that parasitize dogs and cats, since fleas are intermediate hosts of said parasites. On the other hand, the dog tick (Rhiphicephalus sanguineus) is responsible for the transmission of babesiosis and canine ehrlichiosis, caused by Babesia canis y Ehrlichia canis respectively. Thus, the elimination of these ticks becomes essential in order to control said diseases.

Route of Administration
Dosage and Instructions for Use

External use, part the hair and apply all the content of the spot on formulation along the whole neck of the animal.

Contraindications / Warnings / Precautions

Not applicable, if the indicated dose is administered.
It can be used in lactating, sick or weakened animals.
Do not use in dogs less than 10 weeks of age or weighing less than 1 kg body weight.
It is recommended not to bathe the animal 48 hours before or after the application of the product.

Available