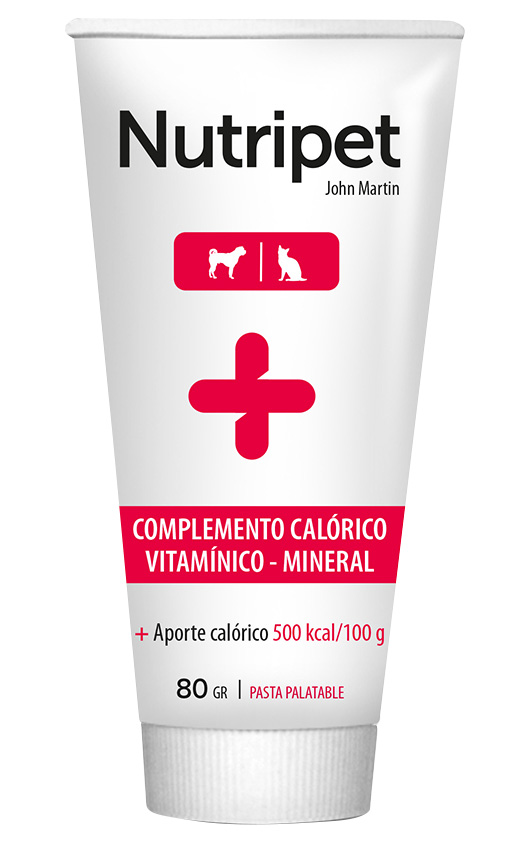 Presentation:

Tube containing 40 or 80 g.

Species:



Composition
Vitamin A, palmitate (equivalent to 9.72 mg) 17500 International Unit; Vitamin D3 (equivalent to 25 µg) 1000 international unit; Vitamin B1 -hydrochloride 32 mg; Vitamin B2, 5'-phosphate sodium 3.2 mg; Vitamin B3 (Nicotinamide) 32 mg; Vitamin B6 18.0 mg; Vitamin B12 35 µg; Vitamin E, acetate 135 mg; Folic Acid 3.2 mg; L-lysine hydrochloride 50 mg; Taurine 50 mg; Calcium carbonate (equivalent to 144 mg of Ca) 360 mg; Magnesium chloride, hexahydrate (equivalent to 0.478 mg of Mg) 4 mg; Manganese chloride tetrahydrate (equivalent to 5 mg of Mn) 18 mg; Potassium chloride 3 mg; Potassium Iodide 6 mg; Excipients q.s. 100 g. Moisture (max.): 11.5%; Fat (min.): 35.3%; Protein (min): 2.3%; Total Ash (max): 6.5%, Crude Fibre (max): 0.13%; Carbohydrate (min): 43.5%; Calories: 500 kcal.

Therapeutic Action
Caloric and vitamin-mineral Supplement

Indications for Use
Caloric and vitamin-mineral dietary supplement to provide nutritional support to dogs and cats that are growing, gestating or lactating and also in special situations such as: stress, work or in the case of animals that are under training or performance animals. It also aids in the animal's recovery after suffering from debilitating diseases (diarrhea), prolonged anorexic conditions and nutritional disorders.

Route of Administration
Dosage and Instructions for Use
Dogs and Cats of all ages: The product is a palatable paste. It can be administered directly, mixed with food or diluted in water. Keep as indicated in the package. Nutripet John Martin can be administered directly from the tube, transferred to a syringe to administer directly in the mouth or diluted in water to be administered by nasogastric tube when required by patient. The product should be prepared in a concentration of up to 40% v/v. As food supplement: administer 6 to 12 g, equivalent to 2 teaspoons every 5 kg body weight. In case of total or partial anorexia or debilitating conditions: administer 1 or 2 tablespoons every 5 kg body weight.
Duration of treatment will be determined by the treating Veterinary Surgeon, and will depend on the physiological state and the needs of the animal. A minimum treatment of 15 days is recommended.

Contraindications / Warnings / Precautions

Available
- Argentina
- Uruguay
- Paraguay
- Brasil
- Chile
- Emiratos Árabes Unidos